Kia tupato kia pai to hikoi
Me te titiro whanui, kia koa
Ki nga taonga kei mua i a koe
Walk the path in safety
Look deeply and learn
From your surroundings*
*Inscription on the Te Araroa foundation stone at Shorland Park, Island Bay.
The stone marks the end (or beginning) of the North Island section of 3000 km Te Araroa trail.
*********************************************************************************
They usually arrive at our door mid-late afternoon.

They shoulder backpacks with attached trekking poles and carry bags of supplies picked up on their traverse of the city.

They're sweaty and puffing if it's a warm day. Sodden if it's a wet one.

They're seeking a couple of nights in a warm, dry space in which to wash, sleep, refuel and restock before moving on.
They are Te Araroa through walkers and they come from all points of Europe, North America and sometimes New Zealand and we are Trail Angels  – locals, usually living near a trailhead, who offer accommodation or a backyard campsite, amenities, maybe a meal, transport and advice to those who are walking New Zealand end to end.  
Te Araroa (The long pathway) is a 3000km network of 87 separate trails/tracks that runs the length of Aotearoa from Cape Reinga to Bluff.  The trail traverses a range of public and private land and is managed overall by the Te Araroa Trust although DOC managed facilities account for approximate 45 percent of the route.  Some parts are linked by stretches of road walking.

The TA is gaining popularity and is moving up to take its place alongside lengthy hikes such as the Camino de Santiago, (Spain), the Appalachian Way (USA) and the Pacific Crest trail (spanning the eastern coast of the north American continent from Mexico to Canada).  

With the opening of New Zealand borders late last year international TA hikers began arriving almost immediately. Many are trying to complete the journey within the terms of their visa (usually three months).  Allowing 3-5 months is recommended depending on speed and ability. 

As of January 2023 there were 4000 trail walkers registered with the Te Araroa Trust.  Along with through walkers there are also section walkers – often New Zealanders – who do a small, different, section of the trail as time permits.

Walkers are either NOBO or SOBO – that's trail speak for North Bound (beginning at Bluff) or most usual South Bound – beginning at Cape Reinga.

Some are hard core and walk the full distance. Others find the road walking sections or detours not to their liking and opt to hitch a ride, catch a shuttle service or even bike. They drop off trail to do other activities including adding in some extra walking in the form of one of the Great walks.

However they choose to do it Wellington is an important stop on their itinerary.

In good weather a SOBO exits the Tararua ranges at Waikanae, then using routes like the Escarpment track and Wellington's network of walkways they finally reach the Southern Terminus at Shorland Park in Island Bay, around 1700km after leaving Cape Reinga.

Once across the Strait the path takes them along the Queen Charlotte Track to Pelorous where they begin the arduous trek along the Richmond Ranges. Eventually they will drop down to St Arnaud in the Nelson Lakes area to pick up their "bounce boxes" – packages mailed on ahead. From there it's through the Travers-Sabine and down to the St James Walkway and another supply pick up.  Depending on progress some will terminate their walking here while others will push on through the southern section to Bluff.

If they're heading northwards they do this route (or variations of it) in reverse.

Either way they arrive in Wellington tired, hungry and in need of restocking equipment and preparing food packages to mail onwards to a pick up point.
Which means that when in the city they spend.

These aren't the usual cruise ship day tourists sitting on a bus or maybe purchasing a coffee in a CBD café.

Once clean and rested, TA walkers head to outdoor equipment stores and supermarkets. They make menu plans and purchase up to a month's worth of meals and snacks. Sometimes dehydrated, just add water and wait, meals. Sometimes more substantial supplies like rice and pasta. They measure out their supplies, package them up and post on to a supply drop point en route
If they are waiting for a ferry they allow themselves around 3 days in the city to stock up, relax and take the opportunity to sample capital life.

On the Te Araroa facebook group there has been some discussion around costs to walk the TA. It varies for everyone but estimates have ranged from NZ$10, 000 to a more detailed $16,000 and upwards over the course of three months or so. This includes replacing equipment, food, supplies, koha, accommodation and transport. It doesn't necessarily include things like the cost of airfares to New Zealand, flights from Invercargill back to Auckland when they head back to their home country and so on.  The official TA site suggests a minimum budget of NZ$10,000 is needed along with contingency funds. 

TA walkers are a sizeable tourist market in Wellington but a hidden one.  A spokesperson for Dwights Outdoors in Mercer Street says they have seen an increase in international hikers since the start of the 2022-23 season with TA walkers now providing a noticeable portion of business.  There have been two distinct waves – the first in October as the early departures prepared to head to Northland before beginning the long trek southwards.  Then again in December as the southbound trekkers reached town with a need to resupply before crossing the Strait.
Dwights now offers TA walkers free shipping to a trail destination of choice on instore purchases over NZ$150*. (*Ts & Cs apply).  In one memorable purchase around NZ$600 of dehydrated meals were purchased by a couple preparing to tackle the Richmond ranges and routes onwards from there.

Next time you see a couple of trampers, fully kitted up and looking a little dishevelled on Lambton Quay, give them a welcoming smile.  They're most likely international visitors fulfilling a physically challenging ambition.  They're in our city for a few days and they're great for our economy.
"To know Papatuanuku you have to go through slowly, on foot"
– Hone Tuwhare**
**Quoted in A walking guide to New Zealand's long trail : Te Araroa by Geoff Chapple, 2017 : p13


If you're inspired and want to know more about Te Araroa here's some of the WCL resources on offer.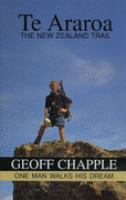 Te Araroa : the New Zealand trail / Chapple, Geoff
"Geoff Chapple has created a continuous hiking trail through New Zealand from Cape Reinga to Bluff. This is his story – he describes the dream of establishing a long pathway, and how his dream became a reality." (Catalogue)
Also available as EBook Overdrive
A walking guide to New Zealand's long trail : Te Araroa / Chapple, Geoff
"This is the guidebook of Te Araroa Trail: The Long Pathway, a continuous trail running from Cape Reinga to Bluff, 35 years in the making, which officially opened in late 2011. The book maps the 3000-kilometer trail in 40-kilometer sections, with maps by leading map maker Roger Smith of Geographx. Author Geoff Chapple is a modern-day visionary who took the concept of a continuous trail running the length of New Zealand and turned it into a reality. Until recently the CEO of the Trust, Chapple complements the maps with a running commentary describing the landscape, the flora and fauna encountered along the way, as well as the special features of particular parts of the trail. Photographs of the trail illustrate each section. Each of the 12 regional sections opens with a stunning 2-page 3D map. A short introduction describes the history of the trail as well as the variety of New Zealand's landscape along the way: forest, farmland, volcanoes and mountain passes, river valleys, green pathways, and the urban areas of seven cities. This book is an accessible guide both for those who only want to walk parts of the trail and dedicated trampers who intend to walk its entire length." (Catalogue)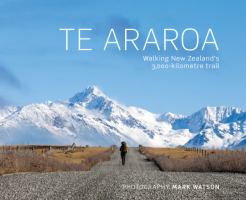 Te Araroa : walking New Zealand's 3,000-kilometre trail / Watson, Mark
"In January 2015 Mark Watson left sunny Cape Reinga to walk and photograph the length of Te Araroa. The journey would take him nearly six months, through constantly changing landscape, geology, and many different kinds of forest. He walked urban pathways, farm tracks, beaches, roads, regional and national parks and reached Bluff – amid winter storms – in July. His visual record of the trail's scenery is presented in nine geographic sections matching the structure of the trail, with introductory text and captioned photographs to describe the landscape, diversity, culture and history of each region. Te Araroa, the long trail, was established by Geoff Chapple and officially opened in December 2011 by Governor-General, Sir Jerry Mateparae. Mark Watson's book features a Foreword by Geoff Chapple, founder, Te Araroa."–Publisher information." (Catalogue)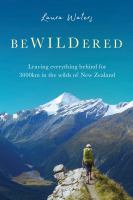 Bewildered : leaving everything behind for 3000km in the wilds of New Zealand / Waters, Laura The pants of perspective : one woman's 3,000 kilometre running adventure through the wilds of New Zealand / McNuff, Anna
"A thrilling, coming-of-age journey that will make you yearn to go on your own adventures." – Runner's World Anna was never anything like those 'real' runners on telly—all spindly limbs, tiny shorts and split times—but when she read about New Zealand's 3,000-kilometre-long Te Araroa Trail, she began to wonder… perhaps being a 'real' runner was overrated. Maybe she could just run it anyway? Travelling alone through New Zealand's backcountry for 148 days, she scrambled through forests, along ridge-lines, over mountain passes, along beaches and across swollen rivers. Running up to 52 kilometres in a day, she slept wild most nights, and was taken into the homes and hearts of the kiwi people in between. The Pants of Perspective is a witty, colourful and at times painfully raw account of a journey to the edge of what a woman believes herself to be capable of. It is a coming-of-age story which will lead you on a roller coaster ride through fear, vulnerability, courage and failure. For anyone who has ever dreamt of taking on a great challenge, but felt too afraid to begin—this story is for you." (Catalogue)
Broken heels and bicycle wheels / Blair, Larry
"As 2018 drew to a close I embarked on what was to be my grand odyssey, a North – South walk of Aotearoa. Following the Te Araroa route, I was to walk 3,000km over the next six months. Spoiler: I didn't. After some ups and downs, I binned that idea and had a crack at biking it instead. Broken Heels and Bicycle Wheels is my tale from that six month period. It's a fairly raw retelling of my trip as I lived it, warts and all…"–https://lawrenceblair.com." (Catalogue)
Lillibutt's Te Araroa adventure / O'Rourke, Maris
"When Lillibutt the kunekune pig decides to walk from Cape Reinga to Auckland she meets others along the way and overcomes some scary challenges during her long adventure." (Catalogue)  Te reo version
Scenic playground : the story behind New Zealand's mountain tourism
"This lavish book explores the story behind the promotion of New Zealand's mountains – through posters, advertisements, hand-coloured photos and more. It explains how the country built its reputation as an alpine playground and, alongside, how mountains became central to belonging to Aotearoa"–Publisher information." (Catalogue)
   New Zealand outdoor magazine Wilderness is available in hardcopy or e-journal formats along with copies of Walking New Zealand also in hardcopy or e-journal
If you need more information please contact the Prosearch team at the library.  We can help you find information across a range of perspectives and resources.  All enquiries are treated in confidence.