I'm a terrible cook, but if I could cook, I would see that as art as well, it's how much creative energy you put into something.
As always when writing these posts, we are  on the look out for something a little bit different to talk about — and one of the books that caught our eye in this month's recently acquired fiction was Tiepolo Blue. This debut novel from James Cahill is set partially in the British art world of the nineties, a time when British art was in the midst of revolutionary change.
Art and the art scene in Britain at the start of the eighties was staid affair until  a group of young artists from  Goldsmiths' College, ably assisted by influential art collector, taste maker and investor Charles Saatchi, decided to shake things up. This group of art revolutionaries — subsequently called The Young British Artists — decided the time was ripe for change and unleashed a maelstrom of reinvention upon the art scene. They employed 'shock tactics' and became known for their use of disposable throwaway everyday objects, wild living, irreverence to the  establishment and both their entrepreneurial and oppositional approach to their art. They borrowed techniques and ideas from the Dadaists, the Surrealists and the sixties' Pop Art movement, amongst many art movements, to power their ideas.
Their movement would launch the careers of some of the biggest artists of our time — artists such as Damien Hirst, Tracey Emin and Sarah Lucas, to name but a few. Although many have now entered the mainstream art world, becoming members of such institutions as the Royal Academy and winning major institutional art prizes such as the Tate Prize, the legacy of their revolutionary approach lingers on in the Art world internationally to this day. We hope you enjoy James Cahill's debut novel and its setting!
Below are the links to Tiepolo Blue and our other selected titles this month: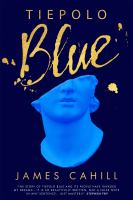 Tiepolo blue / Cahill, James
"Cambridge, 1994. Professor Don Lamb is a revered art historian at the height of his powers, consumed by the book he is writing about the skies of the Venetian master Tiepolo. However, his academic brilliance belies a deep inexperience of life and love. When an explosive piece of contemporary art is installed on the lawn of his college, it sets in motion Don's abrupt departure from Cambridge to take up a role at a south London museum. There he befriends Ben, a young artist who draws him into the anarchic 1990s British art scene and the nightlife of Soho. Over the course of one long, hot summer, Don glimpses a liberating new existence. " (Adapted from Catalogue)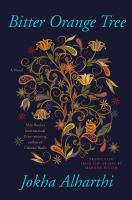 Bitter orange tree : a novel / Alharthi, Jokha
" Zuhour, an Omani student at a British university, is caught between the past and the present. As she attempts to form friendships and assimilate in Britain, she can't help but ruminate on the relationships that have been central to her life. Most prominent is her strong emotional bond with Bint Amir, a woman she always thought of as her grandmother, who passed away just after Zuhour left the Arabian Peninsula. As the historical narrative of Bint Amir's challenged circumstances unfurls in captivating fragments, so too does Zuhour's isolated and unfulfilled present, one narrative segueing into another as time slips and dreams mingle with memories." (Adapted from Catalogue)
Bookseller's notebooks / Barjas, Jalāl
"Winner of the 2021 International Prize for Arabic Fiction. After losing his job and house, a bookseller and voracious reader decides to live with the homeless people in his city and assuming identities of the heroes of the novels he has read." (Adapted from Catalogue)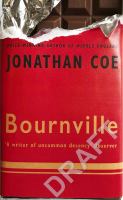 Bournville : a novel in seven occasions / Coe, Jonathan
"In Bournville, a placid suburb of Birmingham, sits a famous chocolate factory. For eleven-year-old Mary and her family in 1945, it's the centre of the world. The reason their streets smell faintly of chocolate, the place where most of their friends and neighbours have worked for decades. Mary will go on to live through the Coronation and the World Cup final, royal weddings and royal funerals, Brexit and Covid-19. She'll have children and grandchildren and great-grandchildren. Parts of the chocolate factory will be transformed into a theme park, as modern life and the city crowd in on their peaceful enclave. As we travel through seventy-five years of social change." (Adapted from Catalogue)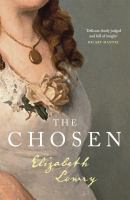 The chosen / Lowry, Elizabeth
" One Wednesday morning in November 1912 the ageing Thomas Hardy, entombed by paper and books and increasingly estranged from his wife Emma, finds her dying in her bedroom. Between his speaking to her and taking her in his arms, she has gone. The day before, he and Emma had exchanged bitter words – leading Hardy to wonder whether all husbands and wives end up as enemies to each other. His family and Florence Dugdale, the much younger woman with whom he has been in a relationship, assume that he will be happy and relieved to be set free. But he is left shattered by the loss. " (Adapted from Catalogue)
Ghost Lover : stories / Taddeo, Lisa
"Behind anonymous screens, an army of cool and beautiful girls manage the dating service Ghost Lover, a forwarding system for text messages that promises to spare you the anguish of trying to stay composed while communicating with your crush. At a star-studded political fundraiser in a Los Angeles mansion, a trio of women compete to win the heart of the slick guest of honor. On a quest to lose her virginity, a daughter tracks down her deceased mother's old flame, the rugged, comically named Jon Deere. In these twelve riveting stories, two of which have been awarded the Pushcart Prize, Lisa Taddeo brings to life the fever of obsession, the blindness of love, and the mania of grief." (Adapted from Catalogue) Also available as an eBook.
The Green Man of Eshwood Hall : a tale of Northalbion / Kerr, Jacob
"Eshwood Hall is a great English house surrounded by sprawling woods. In 1960, Izzy is thirteen, lives in the servants quarters and doesn't go to school. Neglected by her parents, she spends her moments of freedom exploring the forest and the village beyond. The more she comes to understand the history of the place and her own situation, the stranger are the things she hears and sees. The most tantalising of these is the Green Man who inhabits the woods, and seems to know all about her, even those desires she has buried deep inside." (Adapted from Catalogue) Also available as an eBook.
Roses, in the mouth of a lion / Rehman, Bushra
"Razia Mirza grows up amid the wild grape vines and backyard sunflowers of Corona, Queens, with her best friend, Saima, by her side. But when a family rift drives the girls apart, Razia's idyllic childhood is shattered forever. In middle school, Razia befriends a new girl, Taslima, and they begin to chafe at the restrictions imposed on them in their tight-knit Pakistani Muslim community. Together, they embark on a series of small rebellions: listening to scandalous American music, wearing mini skirts, and cutting school to explore the city…" (Adapted from Catalogue) Also available as an eBook.